Shop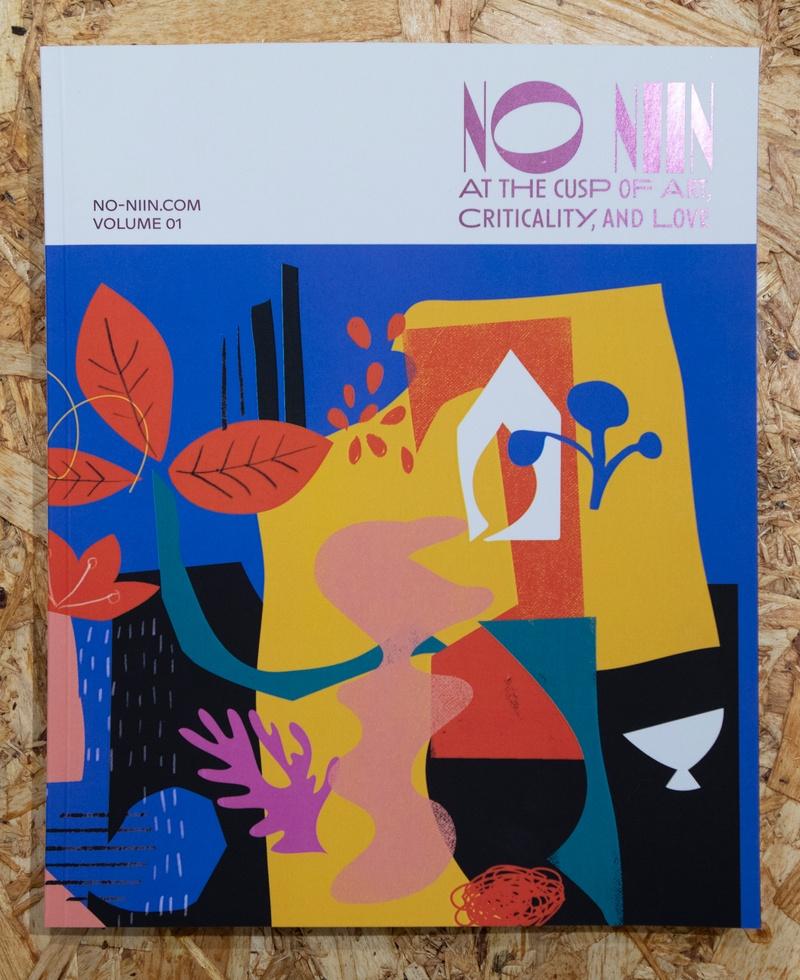 NO NIIN Volume 1
€20,00 – €40,00
---
Publication: 2022
Size: 275 x 225 mm
Pages: 272
Printing: 4-Colour Digital
Binding: Softbound book
ISSN 2814-4074

In 2021, NO NIIN published 8 issues with over 150 contributions from writers and artists based in Finland and internationally. In NO NIIN Volume 1, editors Elham Rahmati and Vidha Saumya have compiled a selection of pre-published texts with added illustrations for offline reading.
The book presents 57 contributions, featuring editorials, essays, reviews, interviews and artworks, along with podcasts and video interviews that can be accessed via a QR code. This publication is an indispensable reference for artists, writers, and indeed anyone engaged in artistic and cultural work in Finland and abroad.
NO NIIN Volume 1 is available for sale both online and at NO NIIN's office at Tarkk'ampujankatu 18, 00150 Helsinki.
The price of the publication is based on the buyer's income. We do not monitor the publication being purchased nor demand proof of discount cards/certifications. Please respect the basis on which copies of NO NIIN Volume 1 are being sold.
€40,00
(plus shipping)

Institutions, Foundations, Organisations, Associations, Companies, Cooperatives

Buy

€30,00
(plus shipping)

Full-time employment, steady income, shared household considered middle-income or higher

Buy

€20,00
(plus shipping)

Unemployed, student, working under precarious circumstances, low income or no steady income

Buy
Main contributors (writers, cover illustrators, podcasters)
Warda Ahmed, Raine Aiava, Ceyda Berk-Söderbolm, Ubuntu Film Club, Shahi Derky, Kihwa Endale, Farbod Fakharzadeh, Ndéla Faye, Juha Hilpas, Fjolla Hoxha, Sam Hultin, Nimco Kulmiye Hussein, Paola Jalili, Toshiya Kamei, Vera Kavaleuskaya, Minjee Hwang Kim, Riikka Kuoppala, Pietari Kylmälä, Miia Laine, Jade Lönnqvist, Saara Mahbouba, Ali Akbar Mehta, Even Minn, Carlota Mir, Nina Mufleh, Golrokh Nafisi, Elina Nissinen, Milka Njoroge, Andrea Coyotzi Borja, Marina Valle Noronha, Golnoosh Nour, Minkki Nurmi, Julian Owusu, Martina Miño Pérez Ristena Biret Kirstte Nilla Pinja, Pinja Pieski, Femma Planning, Melanie Popp, Elham Rahmati, Sepideh Rahaa, Mariliis Rebane, Sami Juhani Rekola, Sanna Ritvanen, Roxana Sadvokassova, Vidha Saumya, Ilina Schileru, Shubhangi Singh, Sharron L. Todd, Risako Yamanoi, Eero Yli-Vakkuri
Essay, Portrait Illustrators and photographers
Elina Johanna Ahonen, Aman Askarizad, Sam Boateng, Evangelos Androutsopoulos, Mariam Haji, Edith Hammar, Savu E. Korteniemi, Xuan Le, Mariana Núñez Sánchez, Mary Stockton Smith, Sakari Tervo, Laureline Tilkin-Franssens