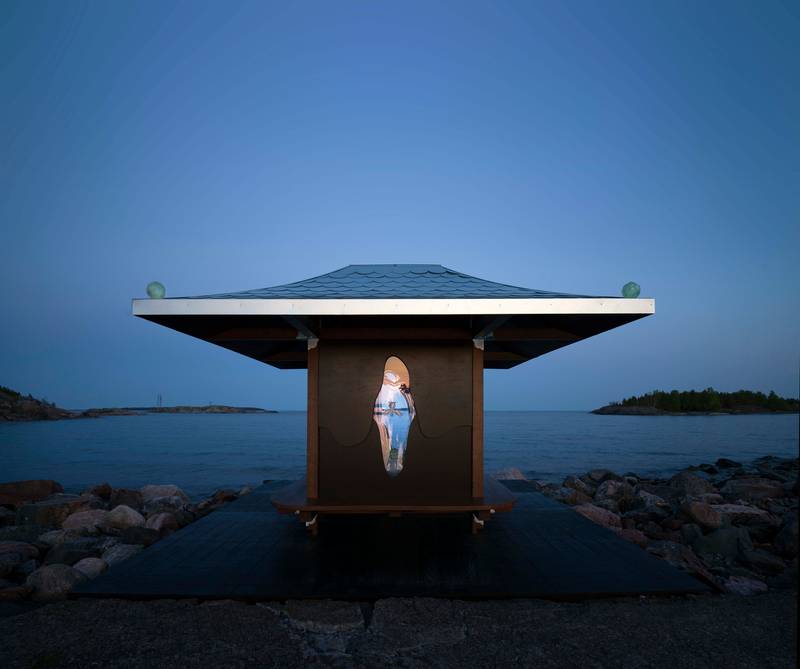 Dahlia El Broul is an artist, educator, and curator from New York City. She holds a BFA in Illustration and a minor in Art History from FIT and earned her MA in Curating, Managing, and Mediating Art from Aalto University in Finland. From 2020-2023, she was the chair of Catalysti ry, an arts association focused on anti-racist work, inclusivity, and equity in the Finnish art scene. Dahlia is a doctoral candidate at the University of Fine Arts Hamburg (HFBK).
Joasia Krysa's appointment as curator of the second Helsinki Biennial materialised towards the end of 2021, and the work commenced in Spring 2022. The second edition of the biennial marked a departure from the first, navigating different geopolitical landscapes, timelines, budgets, curatorial and organisational structures, and resources. The budget for the second edition of the Helsinki Biennial had initially been outlined before the outbreak of the war in Ukraine. Compounded with a post-covid economy and the wider impact on the art world, this all contributed to considerations for organising this edition.
Throughout our conversation, several key themes emerged, including the importance of feedback, collaborations, and audience engagement in shaping the biennial, as well as the unique challenges presented by the island location, accessibility concerns, and environmental considerations.
In an ideal scenario, Joasia would have spent more time in Helsinki to engage in face-to-face discussions and participate in additional events. She also expressed a desire for a reflective event to engage the wider community and gather feedback about this year's edition. Let's see if it can happen!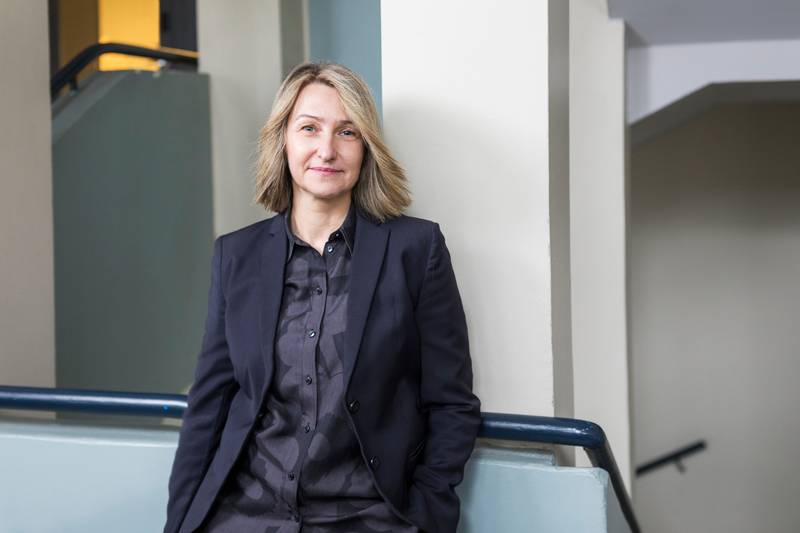 DAHLIA: Given the urgency of the various environmental crises, can we address this theme as a central aspect of your work and the Biennial? In what ways do you think art is reshaping the conversation?
JOASIA: I like how you refer in your question to "various environmental crises," suggesting more than one kind of crisis. Indeed, what interests me most is precisely how the environmental crisis is not an isolated thing but a complex set of conditions interlinked with other aspects, including the technological and political. In this sense, I am drawn to the thinking of people such as Malcolm Ferdinand, an environmental engineer and writer from Martinique, who brings these aspects together under the idea of "decolonial ecology" to argue for protecting the environment together with the political struggles against (post)colonial domination, structural racism, and misogynistic practices.
More specifically, for this edition of the Helsinki Biennial (HB), I drew inspiration from the American anthropologist Anna Lowenhaupt Tsing and her reflection on the ruins of capitalism, the contamination of the world, and how to accept this as an inevitable fact of life today and how to learn to find new ways of living in the world under these conditions. A good example of this is her collaborative performative film work entitled Golden Snail Opera—with anthropologists Yen-Ling Tsai, filmmaker Isabelle Carbonell, and farmer and translator Joelle Chevrier—that we presented as part of the biennial programme. The film focuses on the golden treasure snail, first imported to Taiwan from Argentina in 1979 to start an escargot industry and now a major pest for rice agriculture. Two conflicting farming models follow — on the one hand, pesticides are often used in their extermination, while on the other, a new generation of friendly farmers in Taiwan's Yilan County hand-pick the snails and integrate them within the ecology of the rice paddy.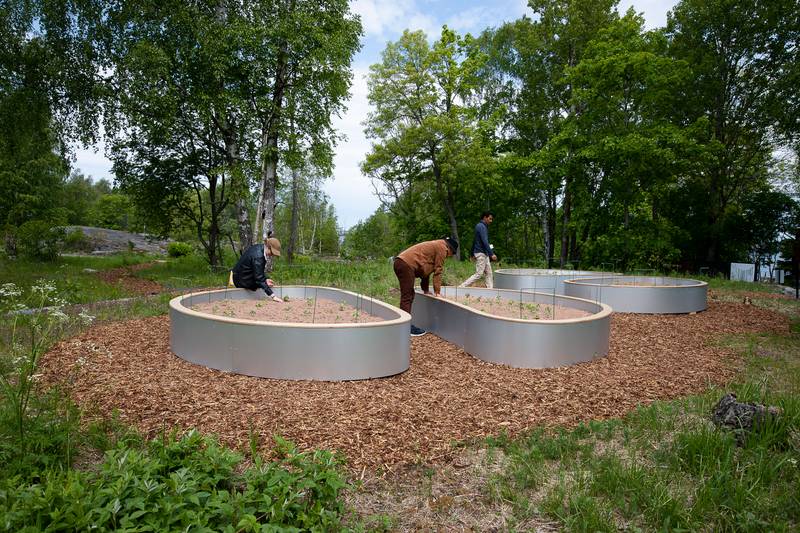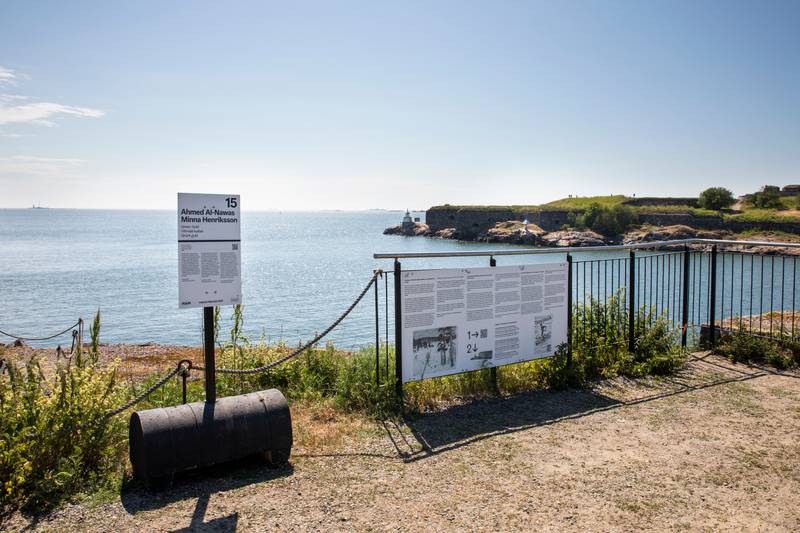 Following Tsing, to look for new ways of understanding and living in the world today is to encourage acts of noticing—noticing small or hidden things related to humans and non-humans, plants, animals, and the environment, and I would add data and technological entities—as this may offer new ideas, new alliances, from which ultimately "new directions may emerge."
I think the works presented in this edition of HB reflect on those broader ideas very well by drawing attention to a multitude of ways in which to see various crises unfold, from the natural environment and resource extraction and their effects on communities and ecosystems to climate change, intense technologisation, and the link to (post)colonialism in a wider sense.
To give some examples, I'd like to refer to Emilija Skarnulyte's work Hypoxia, PHOSphate's work Sandponic Garden, which is a collaboration between Finnish artist and researcher Pekka Niskanen and Saharawi Algerian artist Mohamed Slejman Labat; the work of Sámi artist Matti Aikio Oikos; and Minna Henriksson and Ahmed El-Nawas's work, Green Gold.
In engaging with other artists, what were you seeking to achieve through the dialogue, and what valuable insights did you uncover as a curator?
This biennial did not start with a preconceived concept or a ready-made proposal but from many conversations—with the biennial team in the first instance, then with all collaborators and artists—thereby shaping this edition together through ongoing dialogue and a perpetual back and forth. For example, the first artist I turned to was Suzanne Treister, with whom I had previously worked and whose works weave together many aspects I was interested in for this edition. Pondering in our initial conversations about the relationship between humans and non-humans, new alliances, and speculative scenarios, she imagined a wooden cabin in the forest on Vallisaari island containing what she described as "non-colonialist plans for alternative visions of survival on earth" and the cosmos driven by alternative ways of thinking about environments, technologies, and communities. And so we built one, and from there, a mind map of positions and practices organically developed, forming an ecology of people and ideas. On a personal level, I feel very fortunate to have been able to encounter and work with so many amazing artists, collaborators, and colleagues. To be able to create a project like this is hugely enriching and transformative, and I hope it is also for the public to experience the works. If you are asking me about one valuable insight, I would say this experience has reinforced my belief in close collaboration and the value of generosity and sharing.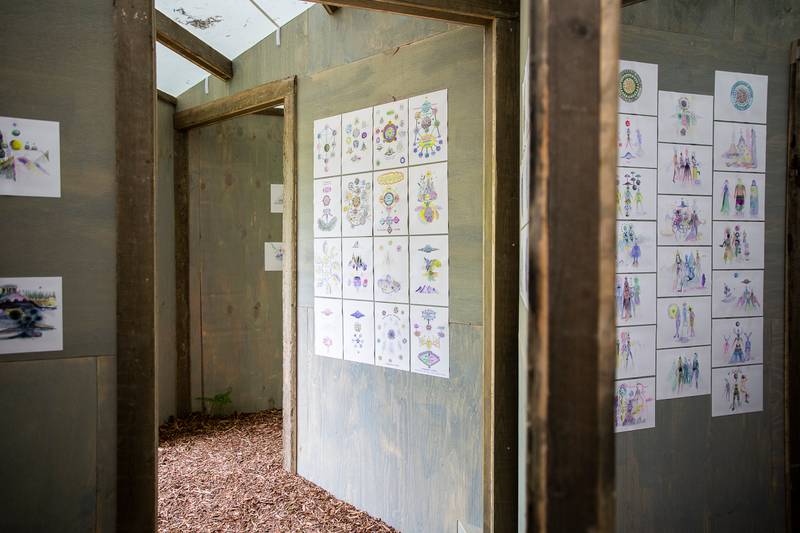 Can you shed some light on the role of the local scene in informing your curatorial approach?
One of the very first considerations for me was to open up the curatorial process to a variety of voices and agencies, especially those from the local context, to bring different perspectives, knowledges, and practices to this edition. The biennial collaborated with the Museum of Impossible Forms (MIF) and Aalto University's ViCCA programme (Visual Cultures, Curating, and Contemporary Art), as part of the curatorial team, alongside TBA21-Academy, Critical Environmental Data (CED), and AI Entity, to shape this edition in terms of topics, curatorial methods, and exhibition formats, developing a list of artists, and fostering further collaborations that could form organically. For instance, ViCCA's project was developed with a group of students contributing writing and elements of the mediation programme. We have also collaborated with colleagues and students from Uniarts Helsinki, a collaboration initiated by Critical Environmental Data (CED). Apart from this, I was interested in exploring the possibility of facilitating a platform through which longer-term relationships and collaborations, both local and international, might thrive and contribute to the local art ecosystem.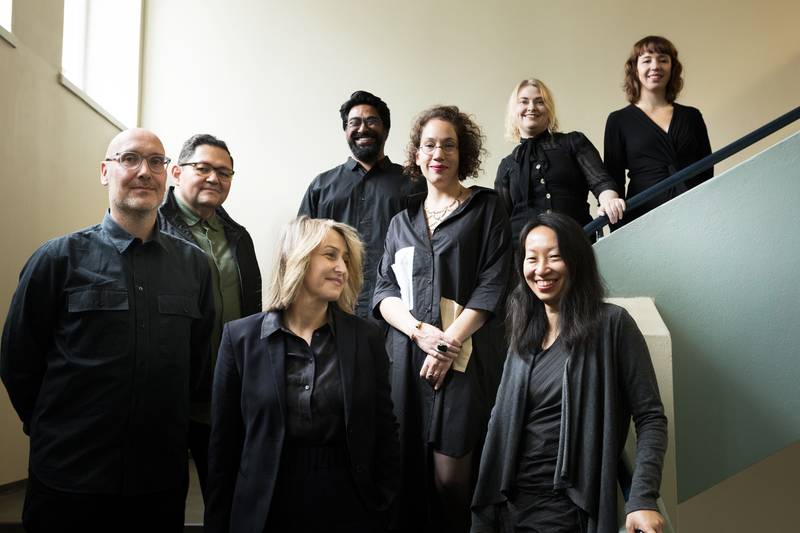 How have you been able to maintain your curatorial work without getting lost in the market-oriented, self-referential, and competitive aspects of the art world?
I have tried my best. The Helsinki Biennial is a new project that can manage to operate reasonably independently and doesn't have the weight of expectations of some other biennials. Additionally, it receives the majority of its funding from public sources, allowing it to operate both inside and outside the art market. Similarly, I am a curator but also an academic, so I am able to work across and between those two worlds and, in that sense, remain largely outside of the art market constraints. Many curatorial projects I develop within the academic context are research-driven, often experimental, multidisciplinary, and collaborative, and when I engage more directly with the art world, I try to take a similar approach.
The biennial, in its unique manner, challenges the notion of blockbuster exhibitions. By being smaller in scale, it disrupts the conventional expectation of grand displays that prioritise Instagrammable moments. What were those conversations like with the other organisers around the scale and scope?
Indeed, this edition was never intended to be a blockbuster exhibition, but at the same time, it did have its Instagrammable moments! The social media attention has been quite phenomenal, as has the international press coverage.
Going back to your question, there are different kinds of biennials made for different reasons. What shaped this edition was my desire to root it in the specificity of the local landscape and geopolitics—to focus on issues of local importance but which resonate globally at this particular point in time—and the curatorial statement points to these scalar tensions. As I have already mentioned, I was also interested in the diversity of local communities and audiences, interested in engaging with the biennial as co-creators and as participants/visitors (whom this biennial is for)—humans but not only humans—and non-human entities too as co-creators and participants of the biennial. Altogether, this shaped how this edition was conceptualised and presented in its physical manifestation. We have also considered public and stakeholder feedback in great detail—the environmental impact, visitor experience, the issue of widely understood access, and the call to reduce the presence of works on the island. Together with the co-curators, we wanted to make a biennial that would be in dialogue and gently integrated with the environment and that would operate on multiple scales across venues and forms.
Thinking more about the scale and register of this edition, we wanted to de-centre the Biennial from its original location to the mainland, staging works in venues across the city such as Helsinki Art Museum HAM, Central Library Oodi, Cultural Centres Stoa and Caisa, as well as public realms and online, with a bespoke webpage designed for this purpose by The Rodina. A number of works were specifically made to be experienced online, while other works unfolded in more blended ways, across physical and online sites. The intention was to extend the biennial to wider audiences, both geographically and in terms of demographics.
Naturally, the specificity of location and venue shaped decisions about the presentation of works. For instance, at HAM, it was possible to present large-scale works and those requiring museum conditions, while at the same time, the intention was to present works that would introduce key biennial themes in a contextually broader way.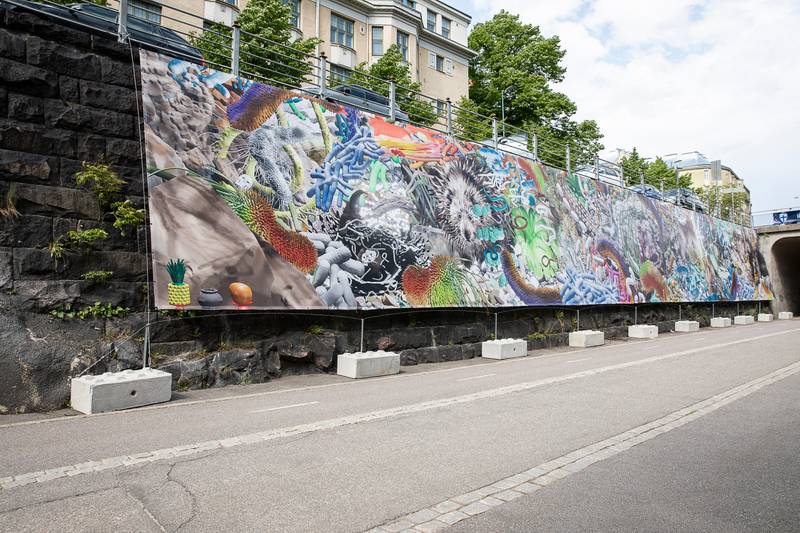 In the public realm, audiences could also encounter larger site-specific works such as those by artists Zheng Mahler on the Baana and Dineo Seshee Bopape at the South Harbour, as well as time-sensitive performative or sonic works such as Sonya Lindfors's common moves.
With the Vallisaari—one of some 330 islands on the Helsinki archipelago, a former Russian military base and a unique and protected natural ecosystem—we wanted to shift to more modest approaches to art and exhibition making, more concerned with small details (aligned with what Anna Tsing elaborated) and to site-sensitive works; works that emerged from and in response to the island, subtly integrated, and works that were developed in close dialogue with the island rather than imposing themselves in a neo-colonial manner. Numerous works are scattered across the island in unmarked locations to encourage the act of "noticing," woven into the natural landscape and the architecture of wartime buildings. This is the case with many of the works but perhaps best exemplified by Villar Rojas, who has chosen a gesture of 15 small mutant sculptures (a series titled The End of Imagination) developed in dialogue with Vallisaari's non-human inhabitants—attached to trees and buildings, integrating themselves within the natural environment. Similarly, Alma Heikkilä's installation, coadapted with an outdoor sculpture coloured with dye infused with local plants and enveloped in a canvas structure, and Remedies (Sasha Huber and Petri Saarikko) work Sanctuary, Mist, both intend to interact with the natural conditions of the island in an ongoing process of mutual transformation.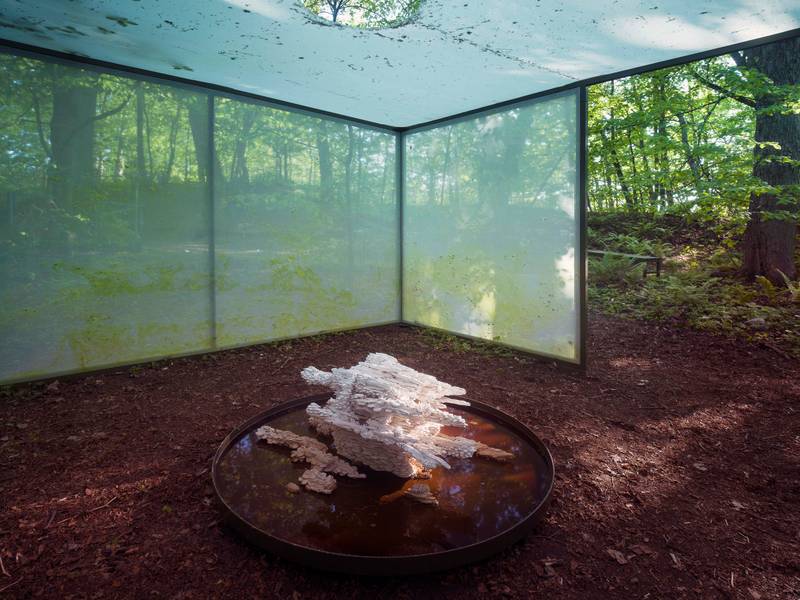 Environmental concerns contributed not only to thinking about the scale and exhibition format but also to how the artworks were made. Many of the artworks were made locally from local and recyclable materials. The intention is that the works leave a minimal imprint on the landscape and that the experience is more reflective and meditative. This aligns with the general desire to be sensitive to the site and to conditions that the world finds itself at present, especially in the face of various crises from the climate emergency to economics, and to work towards developing a more responsible and sustainable biennial making practice.
Why hasn't the biennale taken a proactive stance in addressing the significant local issues surrounding racism, xenophobia, and the endangerment of immigrants, refugees, and BIPOC Finns in Finnish politics? Considering the current climate in Finland, it becomes challenging to connect with the biennale's chosen topics and find the motivation to engage with them. Particularly when thinking in a larger context as well—when we know that the dehumanisation of marginalised groups is directly intertwined with the global devastation caused by human-induced climate catastrophe.
I think a fairer way of asking this question would be, "How has HB responded or what stance did the biennial take?" in this respect.
As I have already mentioned earlier, my desire was to open up the curatorial process, especially to respond to the Finnish context and local issues, and to give space for underrepresented perspectives and practices. A key consideration was to give voice to an array of artistic practices of artists living and working in Finland (approximately half of the invited artists), and amongst that, I was specifically interested in the practices of Finnish BIPOC artists.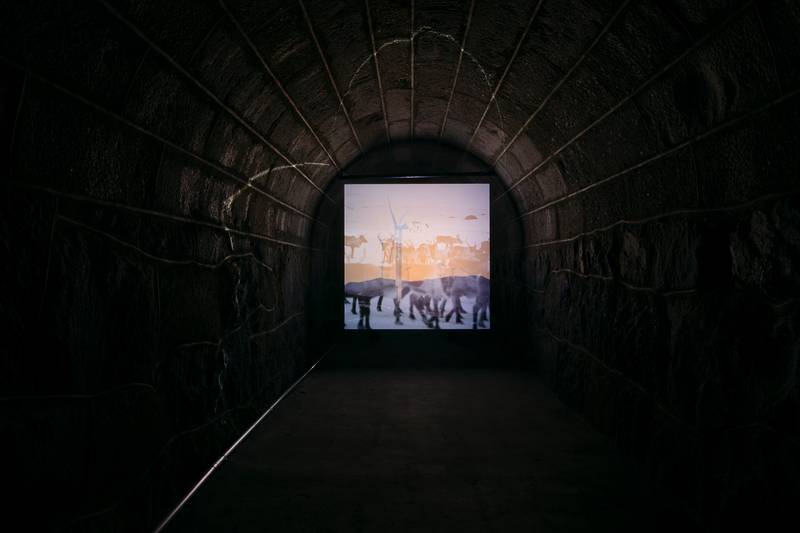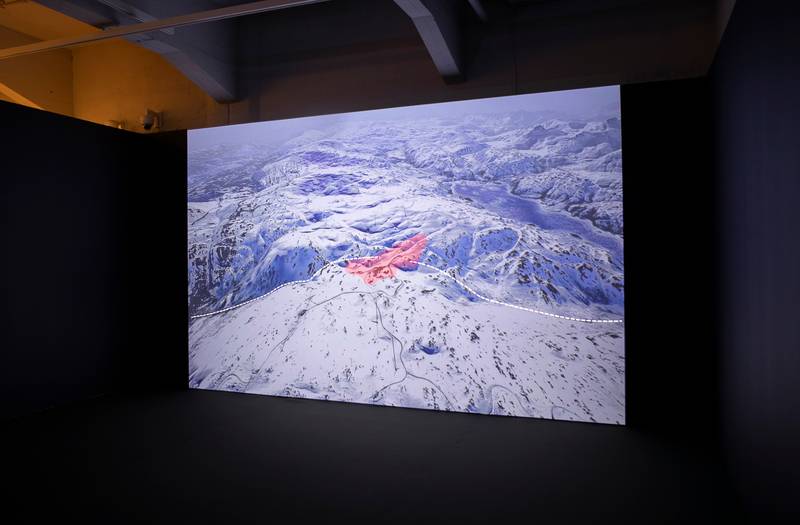 For instance, Sonya Lindfors's common moves was a new collaborative artwork, a "social choreography" or "choreography of the community" operated as a speculative site and unfolded through the act of occupying public spaces staging underrepresented or marginalised bodies. I have already mentioned the work of Sámi artist Matti Aikio and research-based agency INTERPRT, and how it resonates now in the light of recent discussions taking place in the Finnish parliament on the issue of independence for the Sámi in Finland and also in the context of large-scale protests happening in Finland over the summer in response to the proposed policies by the newly formed government (especially concerning immigration, citizenship rights, etc.). Other works highlight other marginalised communities, such as artist Daniele Brathwaite-Shirley's work Thou Shall Not Assume, which addresses black trans persons' experience and real and speculative histories, or Tabita Rezaire's work, which unfolds the politics of technological advancement and colonisation of Africa. Alongside artworks, we have also addressed many of these issues in the public programme — through talks, performances, film screenings, and writing—by MIF in particular.
What gives you hope in the current state of the art world?
That artists are dealing with important issues of our time, and that art can be an effective way of raising awareness of complex issues such as climate and social justice. Art can inspire new understandings through which—to bring it back to the title of this biennial—new directions may emerge. What is also hopeful and inspiring are conversations like this one—an opportunity to reflect.